I love Rachel, but I swear it's like she has a producer off-camera that's continuously giving her the ssttrreettcchh sign.
I was fantasizing today about writing some Rachel Maddow copy:
Some significant people were born in 1889. Among them one Charles Spencer Chaplin who would don a fake mustache and crooked cane, and go on to the delight millions around the world. And 1889 also welcomed in a young man who would not have exactly what you'd call a whiz-bang career as an artist, but would make an impression doing other stuff: Adolf Hitler. But 1889 also produced some less significant people. You've probably never heard of Henry F. Phillips. And yet every time you put together an Ikea bookcase, there's a bag of funny little screws that have four slots, not the typical two… And then 15 minutes later, we get to the meteor streaming towards Earth.
Over the weekend, Exquisite Corps played in the Dance on Camera festival at Lincoln Center. And superstar choreographer (and human being) David Dorfman learned all the choreography of the film and performed it as one continuous solo… to hilarious effect. The film's composer, Robert Een, was there to accompany his own score. And 15 of the film's 42 choreographers also gathered for the event — a wonderful gathering of the tribes.
(me left, David center, Robert right)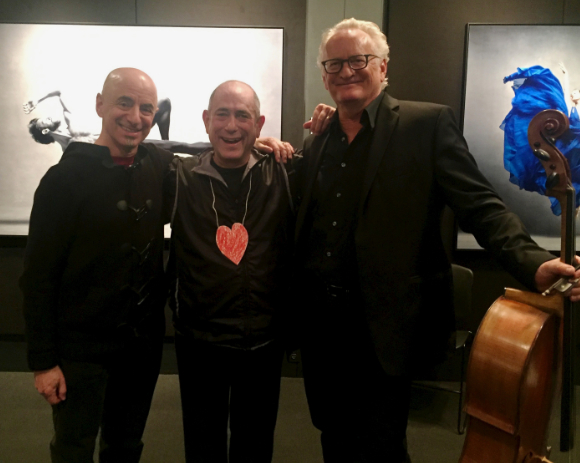 Marcia Siegel is one of the most important dance critics… ever. I'm honored that she's written a very thoughtful piece about Globe Trot and Exquisite Corps.
I don't mean to be quaint, but do you remember when if the United States was going to undertake a $30 billion project, someone would draft a bill and Congress would debate and then vote on it? And then the president would sign or veto it? Oh… Those were the days.
…that I started to realize that this paper towel dispenser is not motion sensing.
My little Xmas project of putting old dances from a past life online. In this 1988 further explorations in intentionally bad theater, I proffer a vision of a new opera of the future when audiences demand less static performances from singers.
Behold: Opera Nuova
My former dance partner Diane—back from when I was a choreographer—has been after me for years to digitize this solo I made for her which meant a lot to her. They're difficult to see, but the things falling out of Diane onto the floor are nuts, bolts, springs, pulleys… and a motor. This was one of the last dances I choreographed, as the title appropriately suggests.