Over the weekend, Exquisite Corps played in the Dance on Camera festival at Lincoln Center. And superstar choreographer (and human being) David Dorfman learned all the choreography of the film and performed it as one continuous solo… to hilarious effect. The film's composer, Robert Een, was there to accompany his own score. And 15 of the film's 42 choreographers also gathered for the event — a wonderful gathering of the tribes.
(me left, David center, Robert right)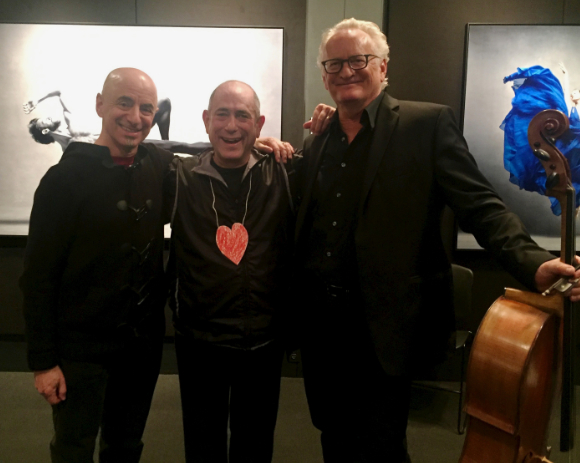 Marcia Siegel is one of the most important dance critics… ever. I'm honored that she's written a very thoughtful piece about Globe Trot and Exquisite Corps.
I don't mean to be quaint, but do you remember when if the United States was going to undertake a $30 billion project, someone would draft a bill and Congress would debate and then vote on it? And then the president would sign or veto it? Oh… Those were the days.
…that I started to realize that this paper towel dispenser is not motion sensing.
My little Xmas project of putting old dances from a past life online. In this 1988 further explorations in intentionally bad theater, I proffer a vision of a new opera of the future when audiences demand less static performances from singers.
Behold: Opera Nuova
My former dance partner Diane—back from when I was a choreographer—has been after me for years to digitize this solo I made for her which meant a lot to her. They're difficult to see, but the things falling out of Diane onto the floor are nuts, bolts, springs, pulleys… and a motor. This was one of the last dances I choreographed, as the title appropriately suggests.
I was only 12 when JFK was assassinated but it was still devastating. My dad had been in Boston government and JFK was an acquaintance of his. That spirit they called Camelot was so uplifting to the times and brought me a genuine sense of patriotism. I fantasized that we'd have eight years of Jack, and then eight years of Bobby, and then eight years of Ted. America had true greatness that would endure. And then it was taken away. The days that followed were unbearable. A dream shattered. In fact I still have a special connection to Chopin's "Marche Funèbre" as it conjures the image of the riderless horse leading the cortege, which brings me chills. My whole life I've felt the hole that was the loss of Camelot. Thank you Barack and Michelle Obama for eight years of fulfilling that dream.